What do you imagine about "Portuguese cuisine"?
Some says "As Portugal is a European country, so meat dish covered with sauce and some bread."
If you have that kind of image, it will be changed after reading this article!
Portugal has good weather, that means there's enough sunshine to cultivate tasty vegetable. And its geography surrounded by the sea, you can easily taste fresh seafood.
Their cooking style is unique as well: simple seasoning with garlic and olive oil is the base, and they put different spices that they used to import from their old colonies in Africa, Asia, and South America. So for me, Portuguese cuisine is kind of ethnic food in Europe.
So, I'm going to show you 15 favorite dishes of mine that I ate and found really awesome. You must try as many as possible when you come to Portugal!
Snacks (Petiscos)
Pasteis de Bacalhau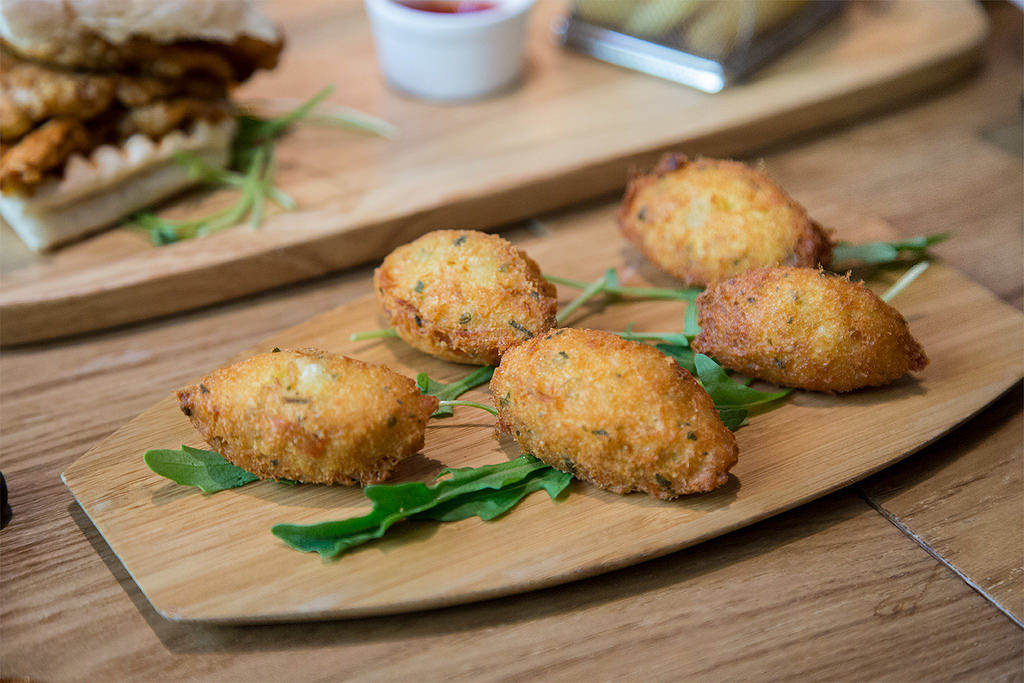 All Portuguese people adore "Bacalhau" (cod fish)
They don't eat it as raw though, it's always dried cod fish that they use. They let this dried cod fish soaked in the water to cook, and this process is the key of good Bacalhau dish.
Pasteis de Bacalhau is Croquettes of codfish, which is made from mashed potatoes and of course, cod fish!
You will find them in any kind of restaurants and bars in Portugal.
When you put it into your mouth, you will be surprised at crispy-chewy texture, and you will taste salty codfish inside, which put a good accent on it.
Info


Budget:
€0.5~/1 piece

Where to eat:
Anywhere. There is a specialized shop in Lisbon but the price is crazy. Go to a bar near your place and you will be satisfied.
Pica Pau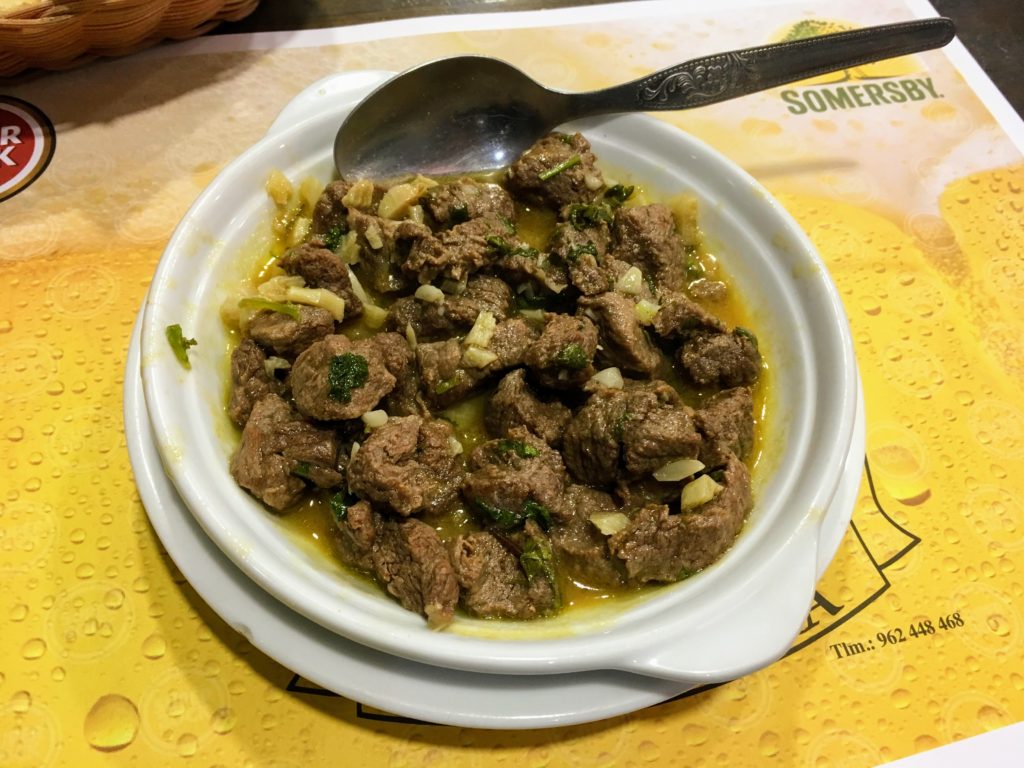 Stir fried pork or beef with garlic, pickles and coriander.
Juicy meat and pickles' texture are a good combination.
Take it with some beer!
You can often find it in a snack-bar, rather than in a restaurant.
Info


Budget:
€4~€6

Where to eat:
Go to a snack-bar near your place. I personally prefer the pork one.
Bifana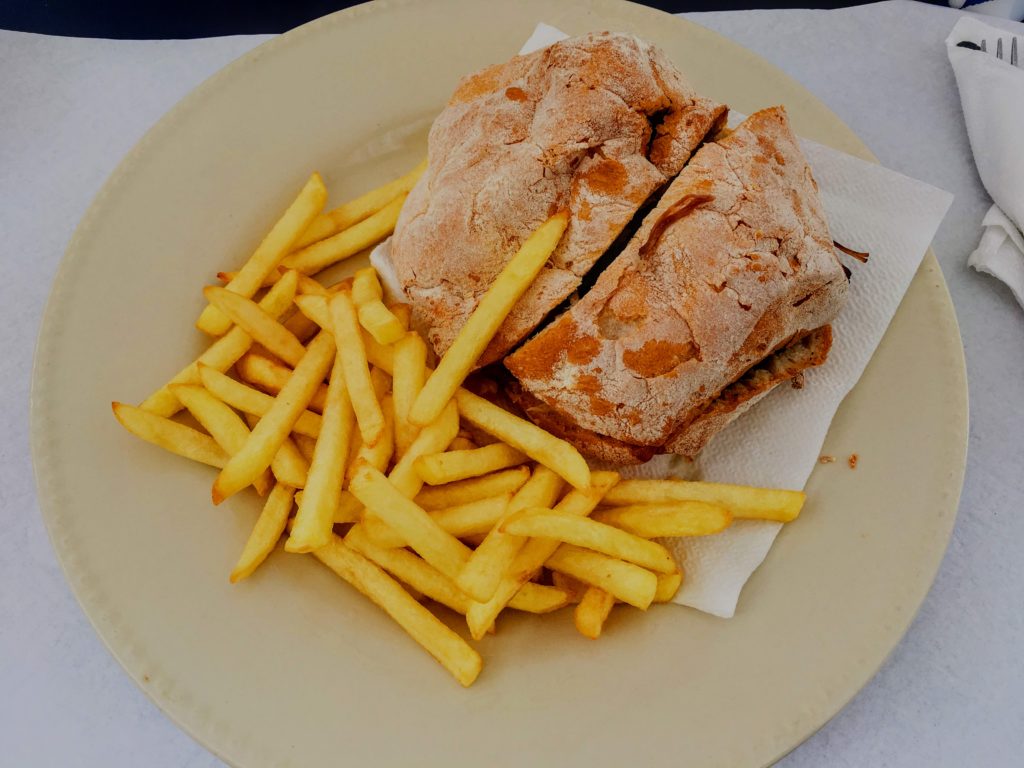 This is absolutely the Portuguese national fast-food!
Bifana is Portuguese style hamburger, which is found anywhere in Portugal even in a snack-bar in a small village.
You must try it once when you come to Portugal!
Inside Portuguese style bread which is hard outside and soft inside, sliced marinated pork meat is put. (In Portugal, the meat means pork meat in general. The beef is rare.)
The seasoning of pork meat is really good, salty but a bit sweet, difficult to explain.
Don't make it light even though it is a fast food. In Portuguese cuisine, the meat is seasoned and marinated before cooking so this Bifana isn't exception.
This seasoning changes totally the taste of the Bifana, so each place has different taste.
Let's try it some in different places, and find your best Bifana!
Info


Budget:
€2~€3

Where to eat:"
As Bifanas Do Afonso" in Baixa district is specialiste of the Bifana. Local and retro ambiance inside and they keep the price still cheap (€2.5) despite their location in downtown.
Meat dishes (Carne)
Carne de porco a Alentejana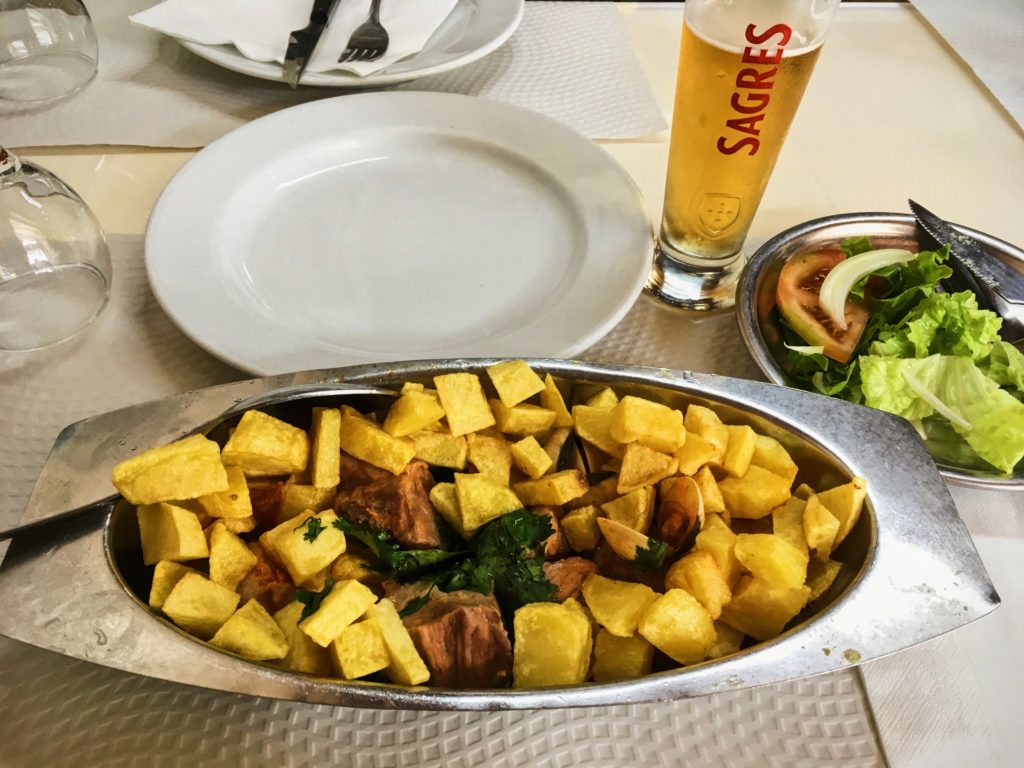 I just want to say "You could never talk about Portuguese food without eating this!"
This is everything of Portuguese food.
To explain it simply, "Pork and clams"
Can't imagine the taste?
Actually, this is the best combination. I really think Portuguese people are awesome because they found this amazing combination.
How to make this dish is respectfully followed to the basic of Portuguese cuisine.
Cut pork meat in dice and marinate it with white wine, garlic, lemon juice, paprika paste and olive oil and put it on the fridge for a night. Then put it on fire with some clams and finally put some coriander and fried potatoes.
Tasty pork meat meets clam's taste…This is the best.
Though it's called "Alentejo style (a Alentejana)", the origin of this dish is in Algarve region which is located in south. They have fresh clams and they are more tasty than imported ones.
If it's possible, you'd better to take this dish in a seaside restaurant in Algarve.
Info


Budget:
€7~€8

Where to eat:
"
José dos Matos", a
 small local restaurant in Faro beach has the best of it. In Lisbon, it's more or less served as daily menu (so you would need luck), 
Restaurante o Freixo is good if they have.
Arroz de Pato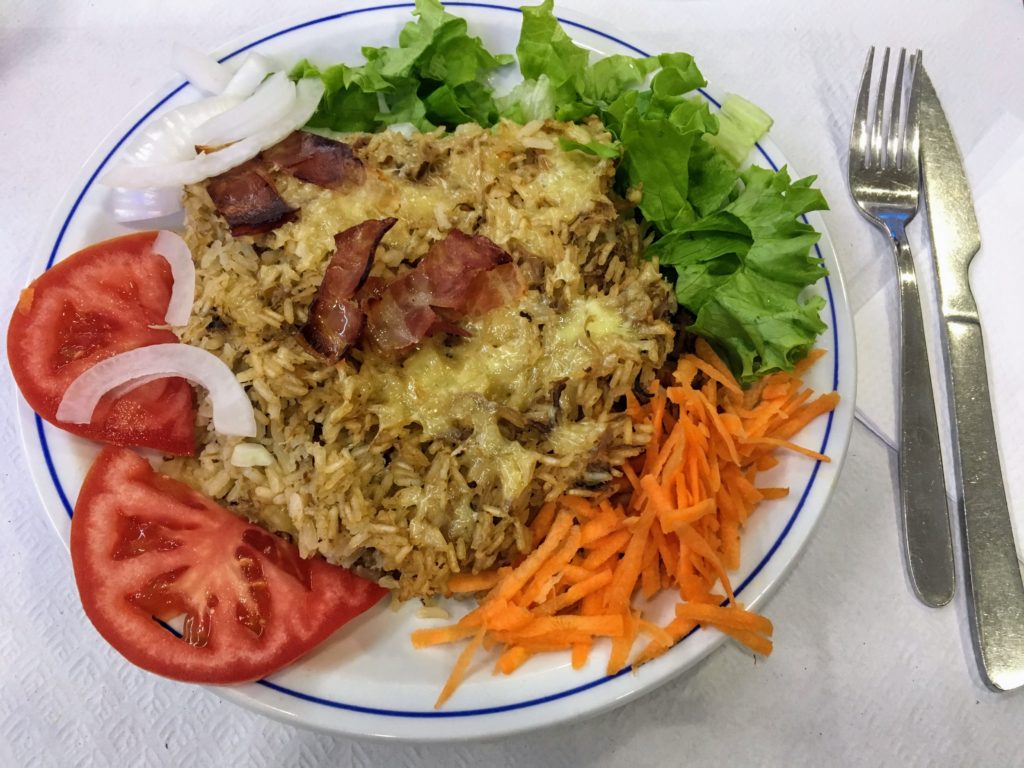 Just think about this food, I can't help myself watering in my mouth…
This is kind of "Duck rice" but not like Chinese one which consists of roasted duck meat and white rice.
Portuguese duck rice is like Risotto with duck meat and its bouillon. That's sounds nice, isn't it?
They cook rice with duck meat and put it into the oven to grill the surface. Sometimes cheese, bacon or sausages on it.
Taste of duck meat and duck flavored rice are a good harmony.
Info


Budget:
€5~€6

Where to eat:
Restaurante o Freixo in Lisbon, Café Lobito in Porto. They both have it as daily menu.
Churrasco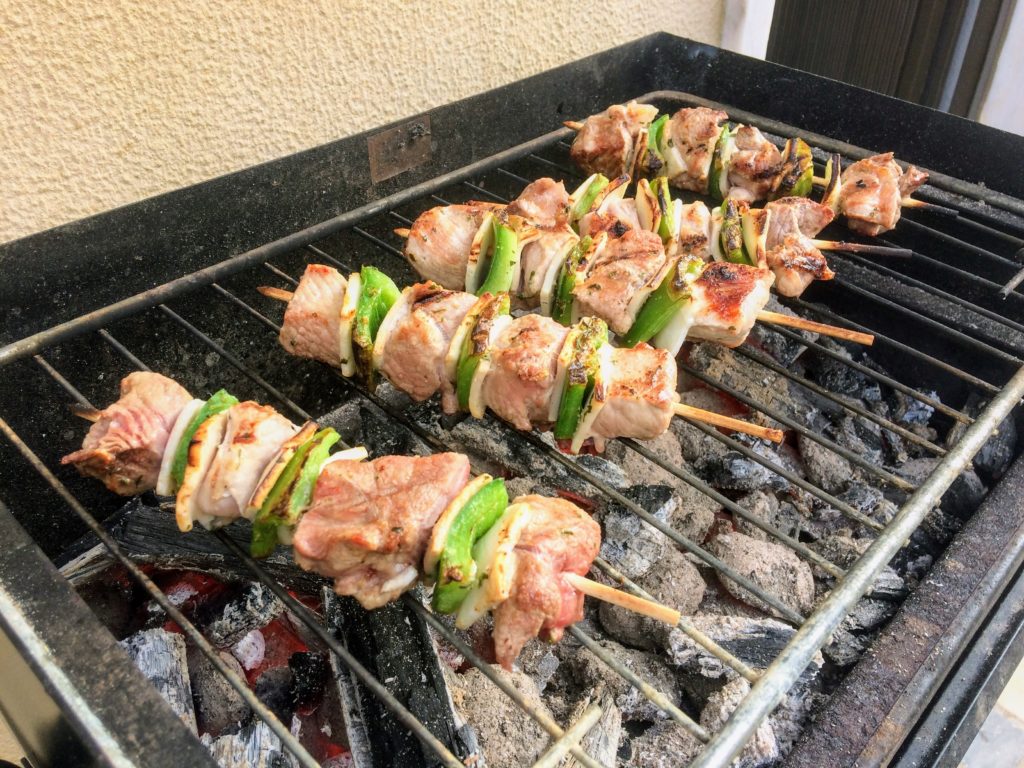 Maybe you know it, this is a famous Brazilian food.  And in Portugal, it's popular as well.
Churrasco is Brazilien style BBQ, marinated pork or beef grilled on charcoal.
It's kind of familial party meal which the people do on holiday with friends.
Info


Budget:
€10~

Where to eat:
The best way is home-made one that you eat with friends. If in restaurant, Restaurante Primavera in Arroios area in Lisbon is nice. They have charcoal grill in side and cook on it.
Bitoque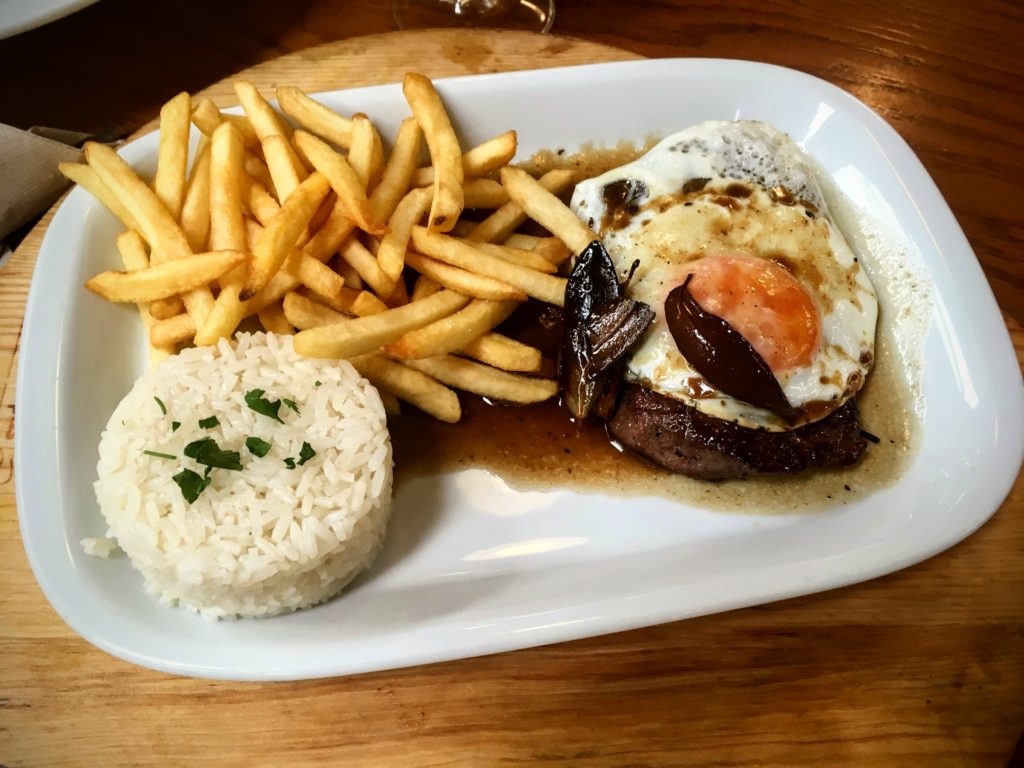 Bitoque is Portuguese style beef steak, and you can find it in many restaurants.
Most of the cases it is served with the sunny-side egg on the top.
If you order simply "Bitoque", you will get a beef steak. There are some variations as pork steak (Bitoque de porco) or chicken steak (Bitoque de frango).
Info


Budget:
€7~€8

Where to eat:
Any restaurants.
Fish dishes (Peixe)
Bacalhau a Bras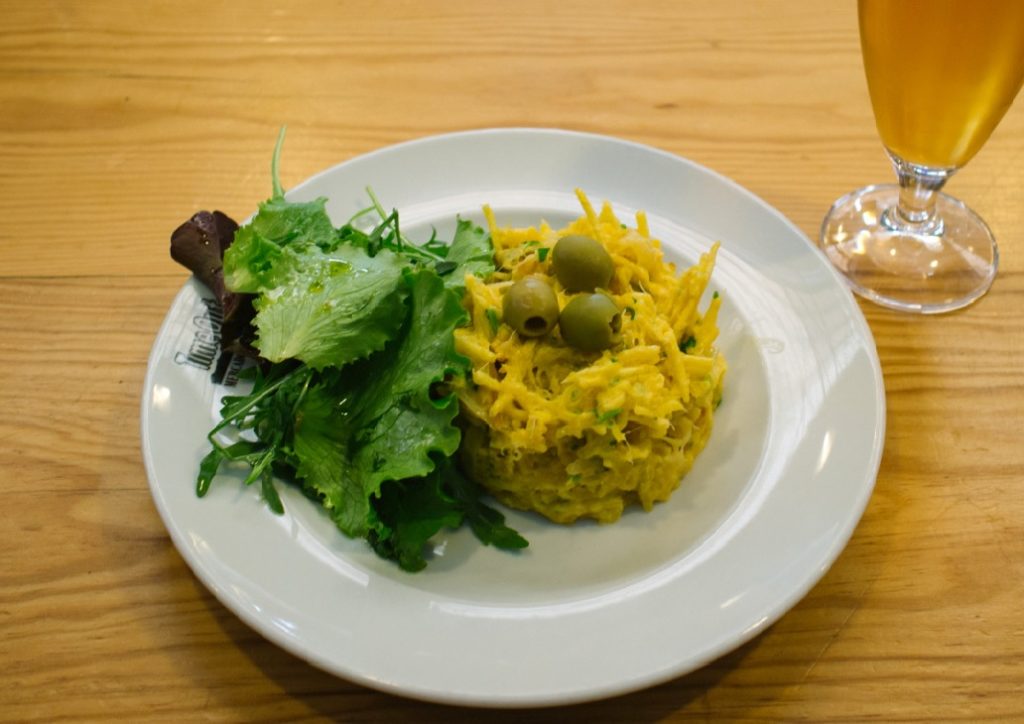 I already talked about "Bacalhau (cod fish)"in the beginning, and this is one of the most popular Bacalhau dish.
It's easy to make: Cod fish with onions, potatoes cut in fine strips, sauteed with eggs.
All Portuguese people know it as home cooking dish and each family has different recipe.
Info


Budget:
€6~€8

Where to eat:
I prefer the supermarket's take-away one to restaurants'
Sardinha Assada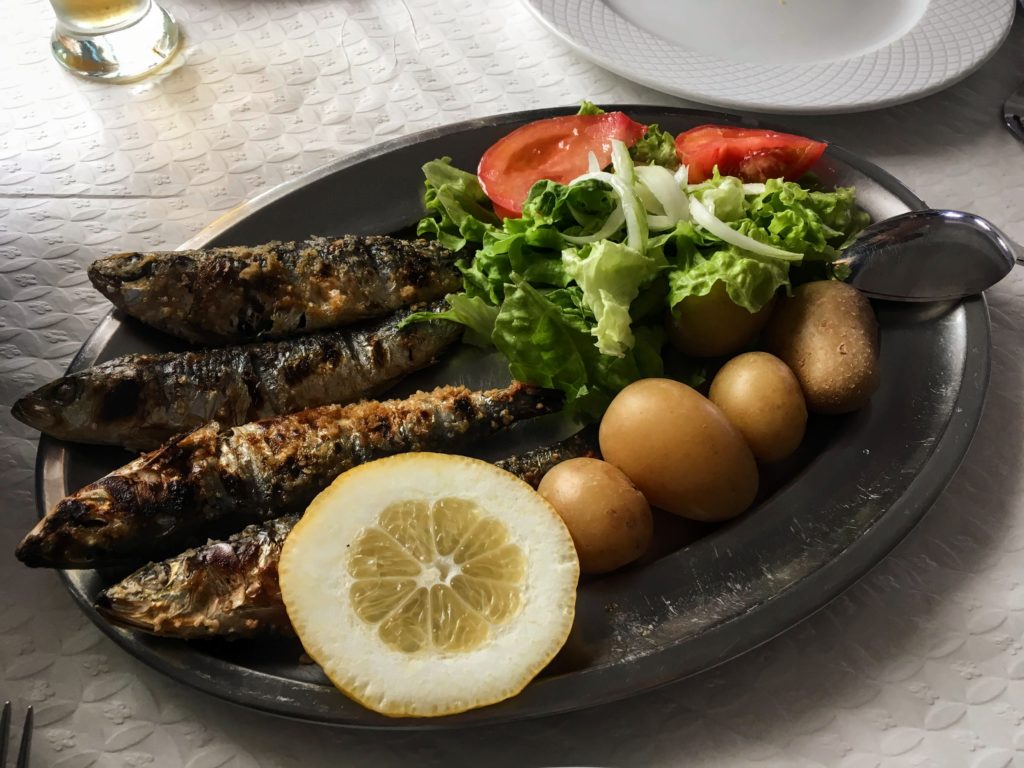 Maybe you have an image for Portugal "the people like sardines" because you can find many sardines-designed souvenirs in shops. And that's true. They love sardines!
The sardines in Portugal are really fat and delicious, especially in the beginning of summer. They grow up in Atlantic Ocean where the water flow and waves are really strong.
The best way to eat them is this Sardinhas Assadas (Grilled Sardines on charcoal).
In June, July, the people grill sardines on the balcony of their house with using small grill pot, and this is something that makes the people feel the beginning of summer.

How to season sardines is simple: put sea salt and that's it!
But you will be surprised how tasty Portuguese sardines are, thanks to the freshness.
I recommend eating this dish in the restaurant which has charcoal grill outside.
They put sardines on grill just after your order.
Info


Budget:
€4~€6

Where to eat:
Freshness is everything when you eat sardines, so go to a seaside town and look for a restaurant with charcoal grill outside.
Caldilada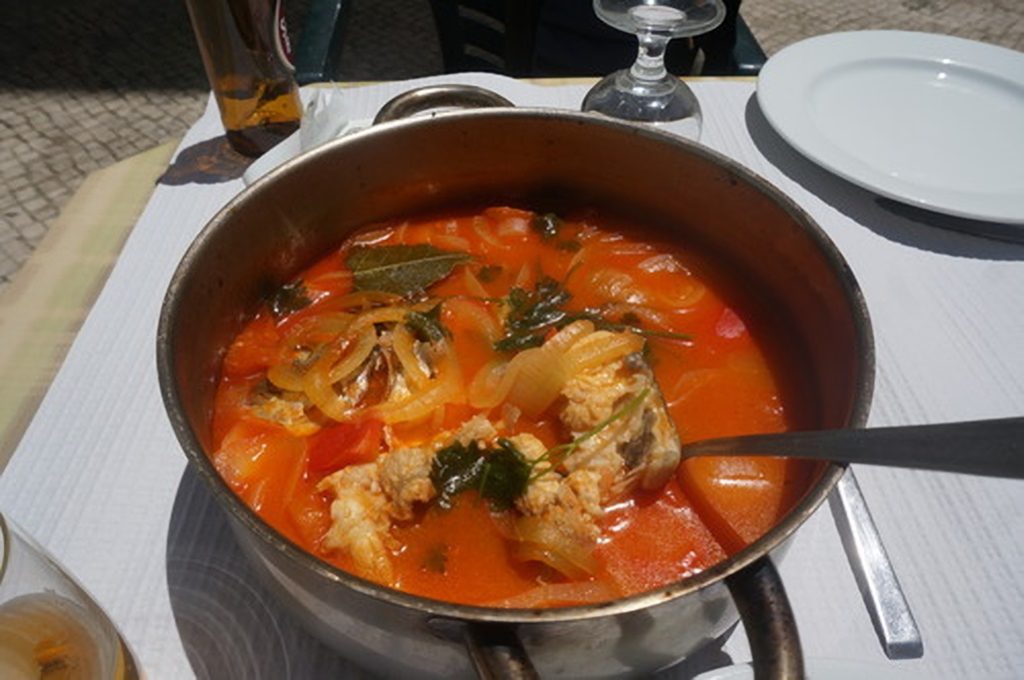 Caldilada is so-called Portuguese style Bouillabaisse.
Bouillabaisse is a French origin seafood soup.
Portuguese bouillabaisse is dynamic: you will get a big casserole where you find a whole fish inside.
The red color of the soup comes from paprika paste, which is essential for Portuguese cuisine.
Many vegetables and fish make it really tasty.
Ideal way to taste Caldilada : On the terrace of a seaside restaurant feeling sea breeze. You will often have a Caldilada with fresh local seafood, and you will really feel that you are in Portugal!
It is normally searved for 2 persons and the portion is really gigantic so share it  with your friend!
Info


Budget:
€12~(for two)

Where to eat:
In the town of Nazaré, a small family-running restaurant "
Casa Dos Becos" has amazing Caldilada. The owner is really kind as well.
Arroz de Polvo

Have you ever tried octopus?
It's a famous food in Portugal. There are many ways to cook octopus as simply grill, put it in salads, marinate it and so on.
My recommendation for Portuguese octopus dish is this one, "Octopus Risotto"
Like other Portuguese dishes, seasoning is simple: garlic, white wine, olive oil, salt and pepper, that's all. But that makes us enjoy the taste of octopus.
Info


Budget:
€7~€8

Where to eat:
When I traveled to Tomar, I took this dish in Cervejaria Do Fernando, and it was my best. This is the only restaurant in Portugal that I went 2 nights in a raw.
Bife de Atum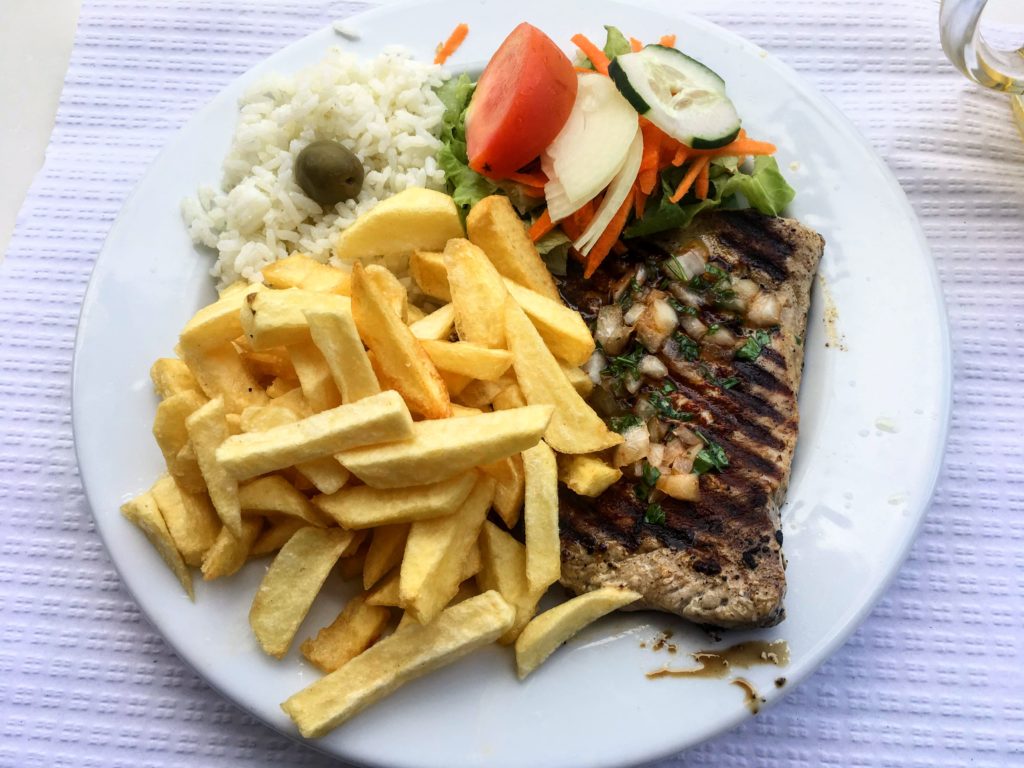 Different from Japanese cuisine, Portuguese people don't often eat raw tuna. But I found grilled tuna was as delicious as raw.
Bife de Atum means "Tuna steak"
Thickly sliced tuna is cooked midium-rare. So outside is well grilled and inside is tender.
If you think Portuguese tuna steak doesn't taste so much, go to Azores islands which is located in the middle of Atlantic Ocean.  Their tuna is completely different from continental Portugal's one. Really tasty.
When I ate it in a restaurant in São Miguel Island, I was really impressed and I understood that the tuna steaks that I had eaten weren't the real one.
If you have chance to go to Azores, you must try it!
Info


Budget:
€6~€7

Where to eat:
Go to Azores islands. In Ponta Delgada city, I accidentally used the restaurant "
Torrié O Café", tasted really great and apearence was also nice despite the cheap price.
Amêijoas à Bulhão Pato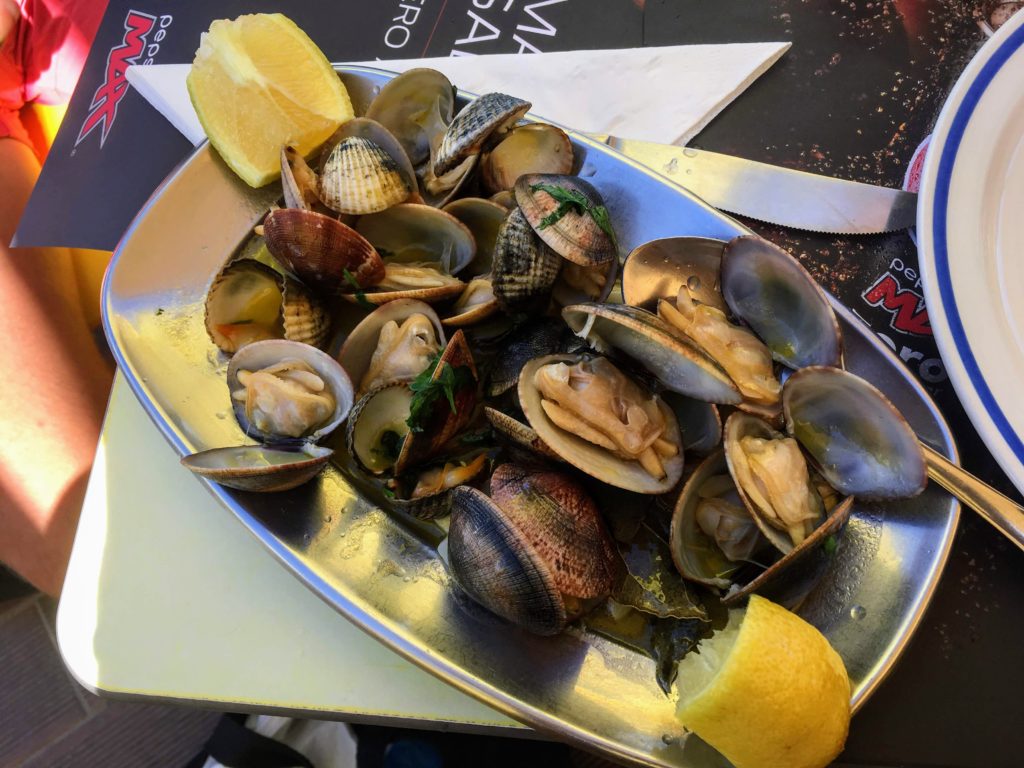 Clams cooked with white wine and duck bouillon.
Tastes really good with garlic, lemon juice and coriander.
Portuguese clams are big and tasty, mostly with brown shell.
If you see clams with white shell, they are imported ones called "Amêijoa Vietnamita" and as they are frozen, the taste is not the same.
In Lisbon or in Porto, it's quite rare to have local clams, but in Algarve which is in the south, you would often have fresh tasty clams which are collected by local people in the morning when the tide is low, and sold by them directly to restaurants.
Info


Budget:
€8~€10

Where to eat:
The best clams I had are Algarve's, more specifically in Faro beach which has lagoons.
Arroz de Marisco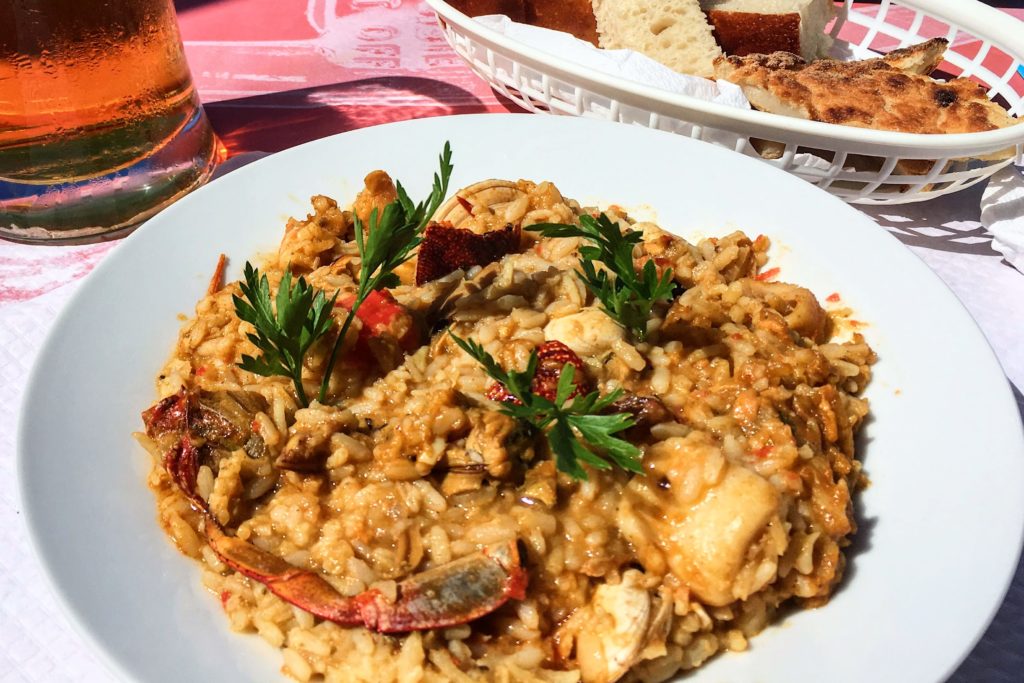 This is Seafood Risotto, that you must try when you come to Portugal. 
The risotto contains variety of seafood like octopus, calamari, crab, shrimp, shell fishes. Once you taste it, you will feel Atlantic Ocean inside your mouth, that's not a joke!
The seasoning is perfect. Don't put many things but take each ingredient's taste as maximum.
You often find this dish as daily menu in seaside town.
Info
Budget:€
5~6

Where to eat:
Restaurants in a seaside town always give you good experience of it. In Lisbon, I liked 
Pastelaria Lido Lda's one.
Dessert (Sobremesa)
Pasteis de Nata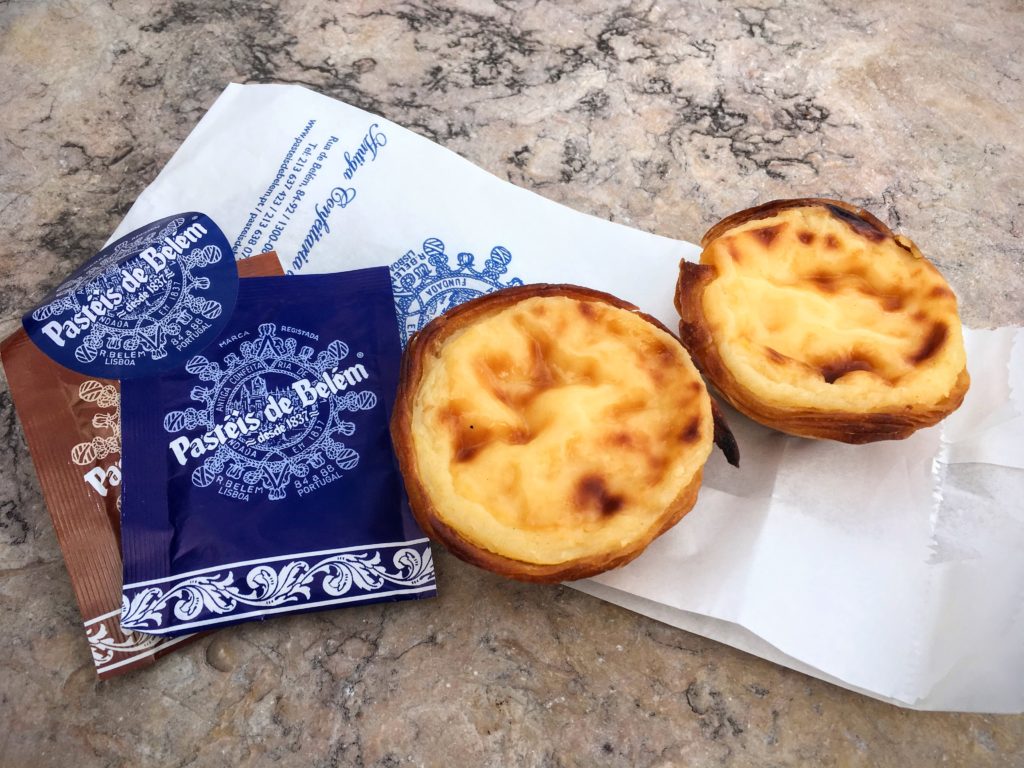 A pastry which represents Portuguese culinary culture is famous as the name of "Egg tart"
The crispy dough and melting sweet cream inside will fascinate you!
Especially, freshly baked egg tarts are something that you will never forget.
If you are a tourist, Pasteis de Belém, the most famous pastry shop of town may be already on your "To do list in Lisbon. Actually it's not only tourists who like it but also local people.
The locals take it in a coffee shop with an espresso, putting some additional sugar or some cinnamon on it.
Info


Budget:€0.5~€1.2/each
Where to eat:
Pasteis de Belém is so nice. 
Manteigaria which is located on Chiado district is another recommendation.
Some words to finish
In Portugal, you eat well with a reasonnable price.
The 15 dishes that I showed you was just a part of Portuguese dishes. And they have many reagional dishes so it's impossible try everything.

I actually like local restaurants more than touristy restaurants, because they have authentic Portuguese dishes that the people est every day life.
If you're interested in trying some local restaurants in Portugal, I have another article about it.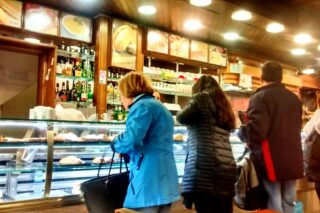 How to use local restaurant well in Portugal? Here's some tips.
When you are traveling and want to find a local place to have a typical local dish of that place, you will search it on
Writing this article made me hungry and I want to eat a Portuguese dish that I haven't tried yet!