The Azores, which is becoming a popular vacation destination these years, are located 1600 away from Portugal mainland.
As well as São Miguel island, Terceira island (Ilha de Terceira) is one of the entrances for tourists to discover pure beauty of these paradise-like islands.
Many people come to Terceira to admire its wonderful nature and its famous festivals but they often forget to taste a local dish : Alcatra.
In this article, you will see this meaty-oily dish which you must try when you come to Terceira!
So, what is Alcatra?
Generally, Portuguese people eat more often pork than beef or chicken, but in the Azores, beef is pretty popular as well.
You will see many many cows in the farms in the Azores and that's why their milk, butter and beef are popular all over in Portugal : these azorean products are kind of good brand for Portuguese. Azorean butter, azorean meat…mmm sounds good!
Alcatra is a local dish of Terceira, which is made of this famous azorean beef : they cook beef ribs with lot of olive oil, garlic, paprika paste and white wine. It's like Terceira-style beef stew.
If you are a meat lover, you will surely be crazy for it!
Where to eat Alcatra? A place "Must go"
As Alcatra is pretty famous local dish of Terceira, many of the restaurants there have it on their menu, and the taste and style is quite different from one to another.
In Angra do Heroísmo, which is the center of tourism, or in Praia de Victória, a beach side resort town in east part of the island, you will find many restaurants, but they are relatively touristic, so sometimes your Alcatra in these places is not really good as it should be because some of them make big portion of Alcatra in the morning and put it into the microwave and serve it…
If you want to taste authentic traditionally-cooked Alcatra, go to a small town of Biscoitos, located north part of the island. A bit far but it's worth!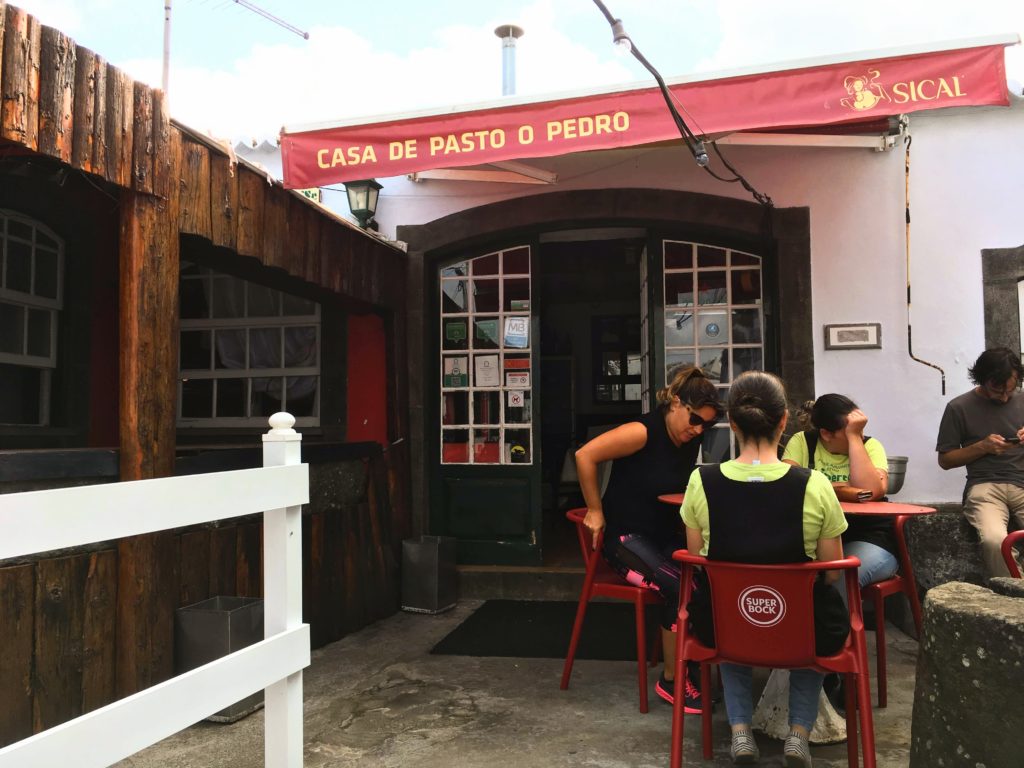 I really recommend this snack-bar-like local restaurant : Casa de pasto o Pedro.
Their Alcatra is really "The must" and appreciated by locals as well as tourists.
Here, Alcatra is served in a heated traditional pottery. They start to heat the pottery and cook just after taking the order so it takes time, but you will have a really hot one and the food inside will be still warm when you will have finished.

When I was there and at the moment my dish came, I was really surprised because in the pottery, the oil-based soup was boiling like it was on eruption!
This soup which contains juicy meat broth is really oily and you won't be able to finish but not too salty. The beef inside is carefully cooked and when you put it in your mouth, it melts!
I was alone there and for me the portion was much enough or too much, so that's better you share it with others if you're not alone. Anyway, it costs only 9 euros. Really cheap.
What do you drink with this meaty dish? I think Biscoitos local wine is really a good option. This small town is known for its good quality of wine. They even have a small wine museum!
Casa de pasto o Pedro
Opening hours : every day 7:00~22:00
Address : EN1-1A, 9760-051 Biscoitos
What to do in Biscoitos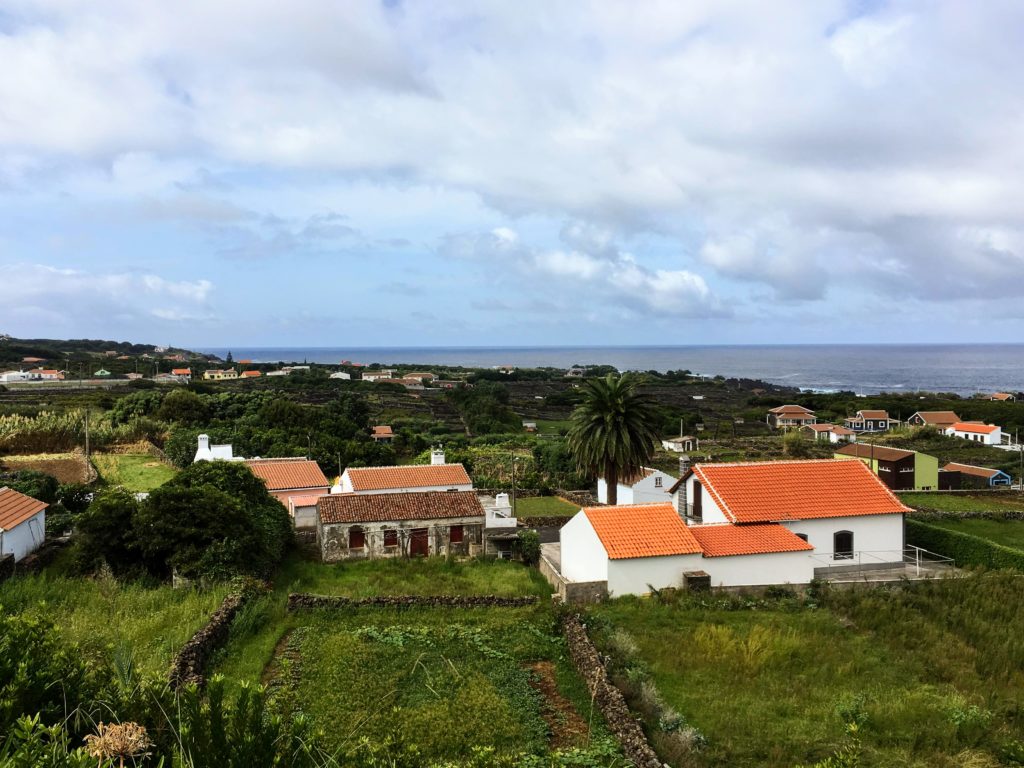 ↑Peaceful town of Biscoitos, where you can see the Atlantic Ocean in front
As I said, Alcatra has a big portion and so heavy that could make you lazy after the meal.
If you are not a busy traveler, it would be nice to walk around this small town and take some rest.
You can find in this town the most famous natural pool in Terceira island, which is often featured in guidebooks or tourism web sites, and that is a perfect choice to have a relaxing afternoon after your meal.
Although the waves are generally high in other natural pools in Terceira, this natural pool of Biscoitos is geographically well protected by natural rocks so the waves don't come into the pool so much.
There are even children who enjoy in this shallow swimming pool.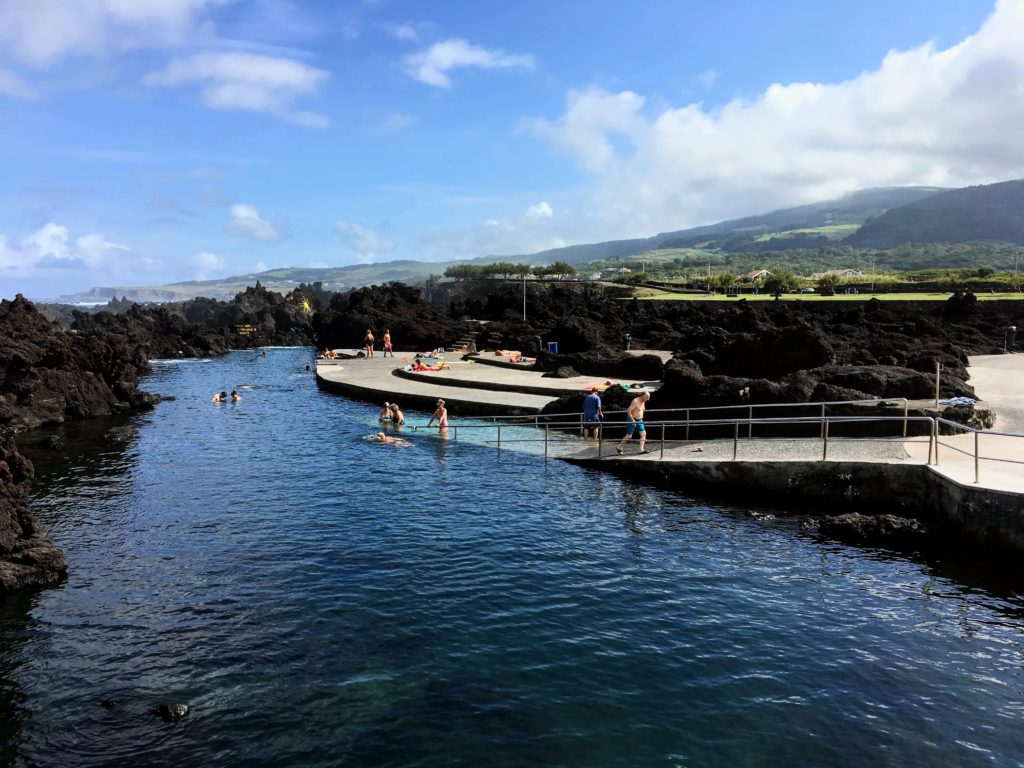 Natural Swimming Pool of Biscoitos (Piscinas naturais Biscoitos)
Opening hours : 24h
Price : free
Address : RP3V+82 Biscoitos
*shower and WC are opened only during summer
If you still have time, why don't you try Biscoitos wine museum?
This is a small local winery-museum which have interesting collections of equipment for wine production, and this place lets you learn about traditional way of wine brewing and of course you can taste their local wine
Biscoitos Wine Museum (Museu do vinho dos Biscoitos)
Opening hours : Tue-Fri 13:30~16:00
Price : €3 (including wine tasting)
Address : Canada do Caldeiro, Biscoitos 9760-051 Praia da Vitória
In the end
If you are traveling, tasting original local food is a great way to know the place and its culinary culture.
Alcatra is not a light meal and maybe it's not the healthiest dish of the world, but once you taste it, you won't forget its original flavor and you will certainly want to taste it again.
When you go to Terceira for traveling, don't forget to put it on your bucket list!