In Coimbra, located in central Portugal, has a famous regional dish : Chanfana.
It's like stewed baby goat with some spices.
If it isn't really your cup of tea to eat goat meat (like me), you could try another special dish called "Leitão à Bairrada", which is famous as "Typical Portuguese Food" today, but its origin is exactly from this Central region.

What is "Leitão à Bairrada"?
"Leitão" means "Baby pork" or "Piglet"
"à Bairrada" is the regional style of cooking.
In short, this is spit-roasted whole piglet!
More correctly, this is the specialty of a small town called Mealhada near Coimbra. But it's also common in Coimbra.
It's quite hard to eat whole pork by the way, and if you try it in a restaurant which accepts the order as a main dish which you can choose which portion of pork you want, it would cost pretty much.
If you a solo traveler, it'd be more complicated, but why not give a try?
I'm going to show you the way to take this great traditional dish for a cheap price without feeling lonely in the restaurant.
Eating "Leitão à Bairrada" in sandwich
Simple and clear solution for any solo travelers!
You don't need to hesitate to enter to the classy restaurant and you can save money.
Actually, the taste is the same and in my opinion, you won't need a big portion of it because it's normally so oily and fatty.
My recommendation is "Porta Larga"!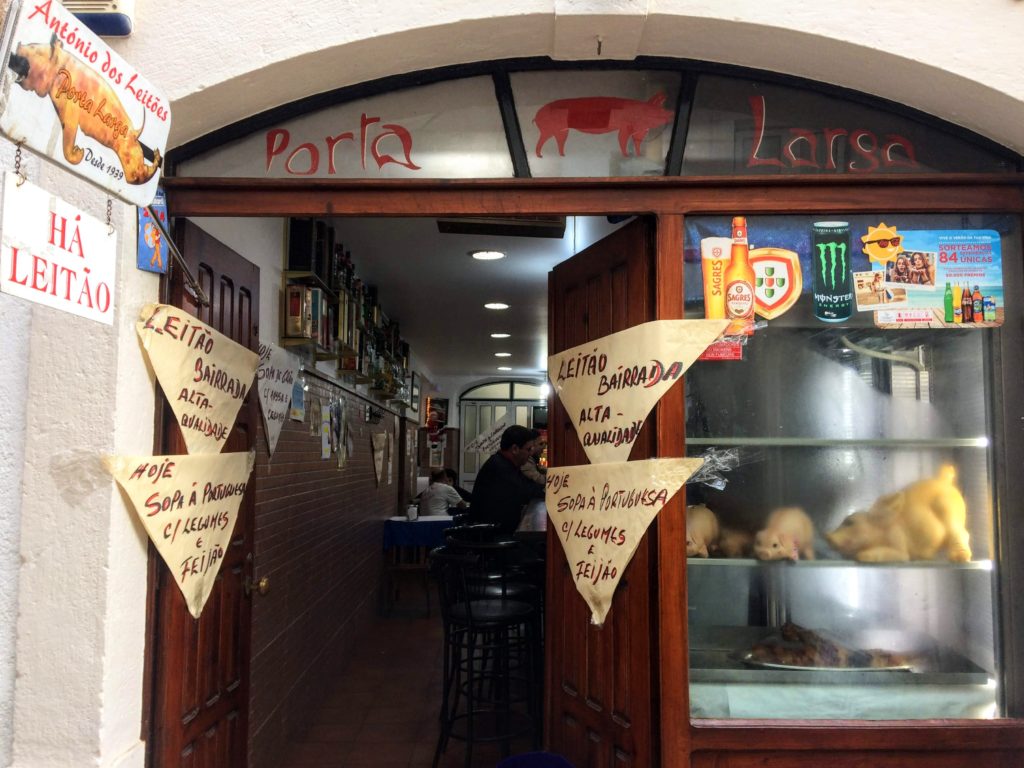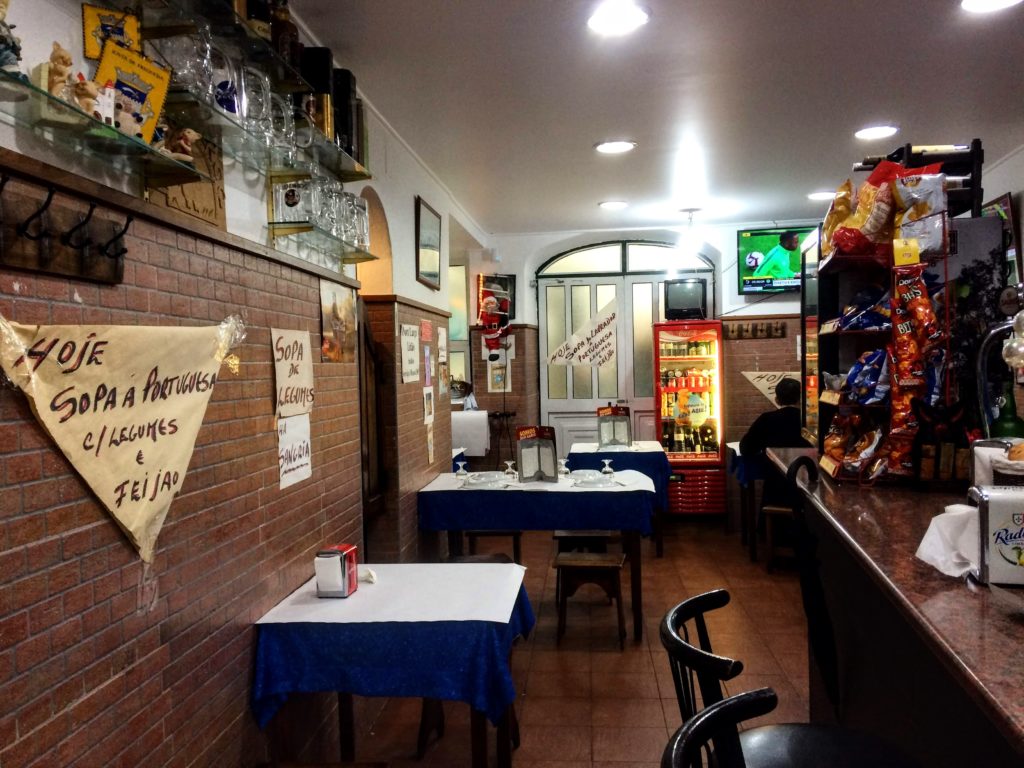 Located in Baixinha district which is kind of downtown of Coimbra, Porta Larga is a small, local-atmosphere restaurant. (In Portugal this type of restaurant is called "Tasca")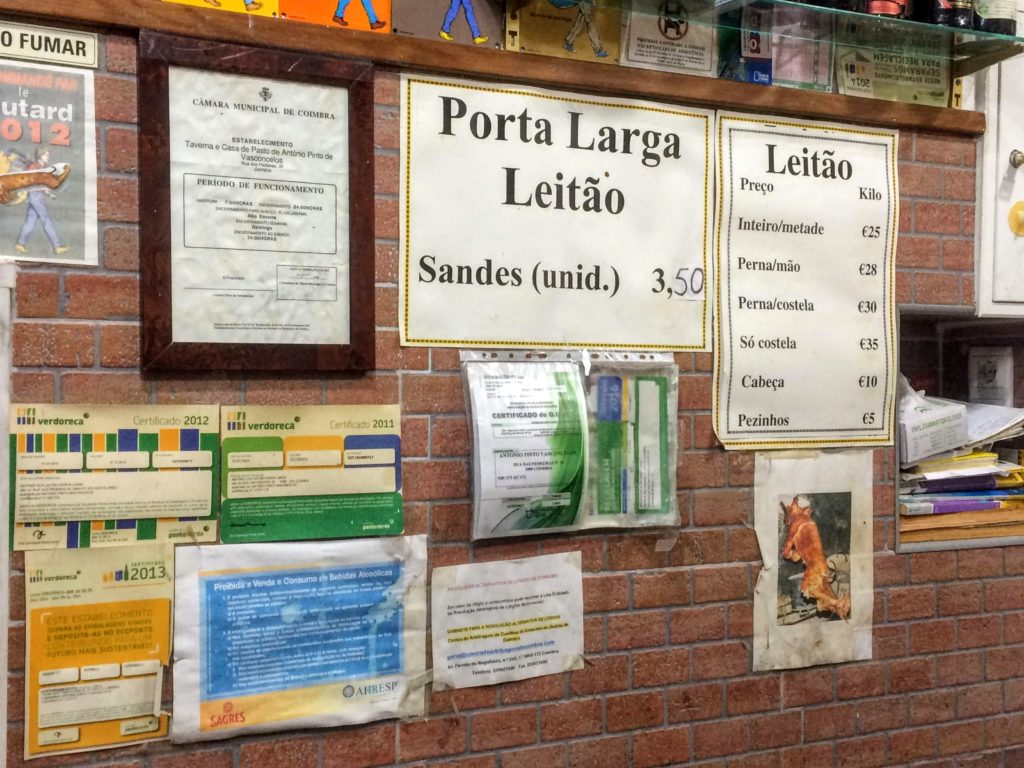 Sandwich of roasted pork (Sandes de Leitão) costs only €3.5!

If you want to try other parts of pork, you can order for kilogram depending on which part like legs, intestine, or even head(!)
How it tastes like
Only 5 mins after my order, I got my sandwich! It actually looks like "Bifana" which is a popular Portuguese style hamburger.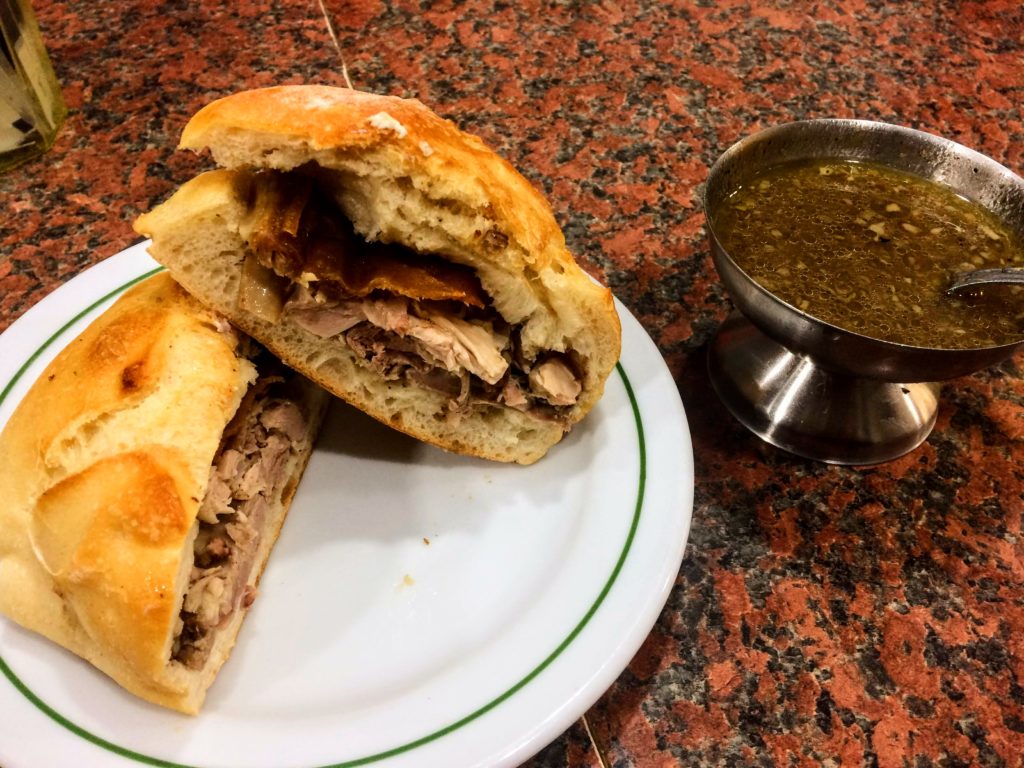 One bite…
OINK OINK!
Juicy!
The pork skin is so crispy!
Really good. I have never tried the pork skin but I loved its crispy texture.
Putting some special sauce (made from pig fat, garlic, some spices) which comes with the sandwich, that's way more tasty with salty-oily flavor.
It took me only a minute to finish because it was so good.
Thanks, piglet!
In this restaurant, the bread they use for sandwich is bought in a bakery in Mealhada, a small town which has the origin of this formidable dish.
The quality and price are both amazing. This is "the must go" eatery when you stay in Coimbra.
Information
Porta Larga
Address. das Padeiras 35, 3000-283 Coimbra
Opening hour:Everyday. From noon to around 19h
Point:If you take just a sandwich, better to take a seat on the bar because you will be searved faster.The restaurant has daily lunch menu or other Portuguese dishes as well.